Top 5 Christmas Gift ideas that will register your company in your customers mind the coming year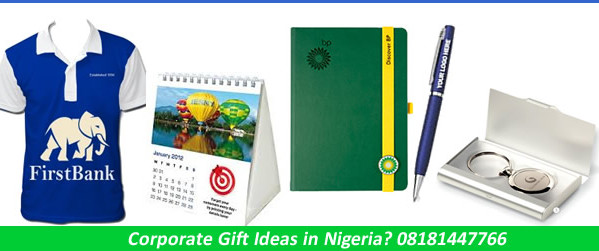 Christmas is around the corner and any company in Nigeria interested in making higher sales in the coming year are already planning the corporate gifts to buy for their staff and customers. The right corporate gift is a powerful relationship building tool. From staff gifts that build morale, to customer or client gifts that keep you top of mind, there is an inherent symbolism in giving a gift during the Christmas season. A corporate gift, particularly a well thought through quality item, can represent the value you attach to your business relationship with your staff and customers.
As a corporate gift firm in Lagos, here are the top gifts our researches have shown will keep you top in your customers mind in 2016. These gifts tend to tell the customer that you appreciate them in a genuinely thoughtful way, not in an "I'm bribing you with a N5,000 bottle of wine" kind of way.
Depending on your budget, you can know what to go for. Or you can classify your customers according to their loyalty and volume of purchases. So some receive highly expensive gifts, others(the greater majority) get the cheaper items
Branded Pen: This is a unique way of selling your brand to a lot of people. Just brand your logo on the pen and possibly your website if space permits. Pen exchange hands almost everyday. People borrow pen in banks and other places and sometimes forget to return them. So your brand keep spreading. Your choice of pen should depend on your budget whether plastic or the more expensive metallic type.
Keyholders: apart from our phones, one thing we carry about quite often is our key. When you give your client a keyholder, you are making them your brand ambassadors. They just keep taking your brand with them anywhere they go.
T-shirts: this works like magic. Brand it with your logo and slogan. My advice is get a quality t-shirt and branding type so that people of value will like to wear it. Get useful advice on the type of material and branding that lasts long
Calendars: the calendar is designed to be used round the year. Most people don't remember to go to the market looking for where to buy almanac or print calendars in Nigeria, they will be glad to hang yours on their wall. Guess what? It will be there all year round
Diary: even with the advent of ipads and phones, diaries are still not old school. Many people still use it. Some use it as back up to their tabs or just to make quick notes as many are not used to typing fast. Put important information that they want to see in it and the services of your company as well. Just like the calendars, diaries are designed to be used all year round. The average life span of flyers is 24 hours, brochure 1 month, while calendars and diaries are 12 months. What a powerful marketing tool.
Note that Eloquent is also a top Christmas hamper Supplier in Nigeria.
Visit our website for more christmas gift suggestions http://eloquenttouchmedia.com/branded-corporate-gifts.php
About The Author
Related posts