The Difference between Acrylic and Crystal Awards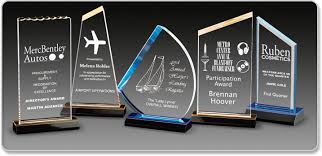 Everyone will agree with me that there's nothing like showing your staff how much you appreciate and value them. Employees who feel valued and appreciated work harder and are less likely to look for a new company to work for, which means businesses can spend fewer resources on hiring and training new employees.
However, if you're planning on handing out acrylic or crystal awards, you need to know what the difference is between the different types. Take a few minutes to learn the differences so that you can make the best possible decision for your company or organization.
So if you are wondering, "what is the difference between acrylic and crystal"? we have the answer for you. Acrylic awards are made from molded plastic. Because plastic does not transmit light like glass or crystal, they do NOT sparkle or reflect light like crystal does. Crystal also weighs more than plastic so when you hold an acrylic award it tends to "feel" cheap. Crystal awards have a much higher percieved value and will tend to make your recipient feel that much more important.
Luckily for business owners, there is a wide variety of acrylic, glass and crystal awards to choose from. Before you buy one, make sure you're making the right decision for your company — and your employees. They'll certainly appreciate the care and thought that's put into your decision and will know just how much you appreciate their efforts every day.
Eloquent Touch Media sales quality acrylic and crystal award plaques in Nigeria. Contact Us today
About The Author
Related posts