Print Quality Letterhead, Business card and Envelop In Nigeria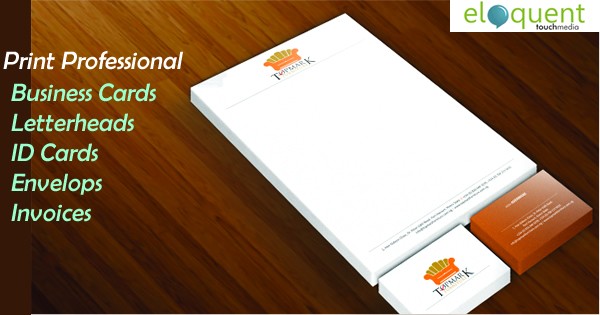 Yes you have set up your business in a major city like Lagos, Abuja or Port Harcourt and need to print your letterhead, envelop and business card. Eloquent Touch Media offers a quick and affordable business card, letterhead, envelop design and print. With our professional design, quality paper, sharp print out, excellent finishing, speedy delivery and professional approach, you can be sure that your brand is in safe hands.
Why choose Eloquent Touch Media to print your stationery?
1. Clear Crispy print Quality:
Our complimentary cards, letterheads and envelops are printed on DI, therefore it comes out sharp and with a uniform color. Some people who print using the normal colour separation mechanism, leave a poor finishing with stains and tone that is not uniform. Making one card look different from another.
2. Speedy FREE Delivery:
Your card will be ready for collection in 48 hours after an initial payment of 70% and agreeing on the design. We can print your cards or letterheads same day or deliver the next day (for express service which comes on a premium). Please note that our Free delivery only covers Lagos residents who have made orders of up to N200,000.
3. Affordable Pricing:
Our call cards printing service is very affordable and flexible. You can order for just a hundred  business cards at N7,000 Naira while 200 is 10,000 Naira. the price drops per unit card as the quantity increases. For the cost of letterheads and envelops, call 08181447766
4. In house creative Design:
we offer professional graphic design service. We have a team of professional designers that can customize your stationery to suit your brand
5. All the finishing "effects" you need
Whatever effect you need on the finishing of your call card can be achieved by our professionals: be it spot lamination, embossed logo, cornering(rounded edges), foiling etc. Whether you also need a thicker paper or transparent plastic business card, we can achieve that.
6. Professionalism:
Your business card tells a story of your company or organization, stop contracting its design and print to illiterates and quacks that are only in business for the money and not to offer world class value. Our brand matters to us,so is that of our clients. We bring in all our years of experience in branding, marketing and communication to handle your printing project.
7. One stop shop:
With Eloquent touch, you have one vendor that can reason with you to improve your brand and grow your business. We offer other services like logo design, website design and internet marketing that you may also need. It is best to have your brand flow from one source to avoid discrepancy in what you communicate
Let's get started
Go to our website order page and order for your stationery design and print. Tell us the quantity you need and when you want it delivered and we would follow you up with a quote. You pay 70% of the agreed cost on the pro forma and we get started. Don't forget to send your logo and/or design if you already have one. We would also need your address, phone number, email, website and any other information you need to be on your card or letterhead if we are to put up the design. Send to our mailbox: info@eloquent.ng. You can also call 08181447766
About The Author
Related posts