Where to Make Custom Air Freshener in Lagos Nigeria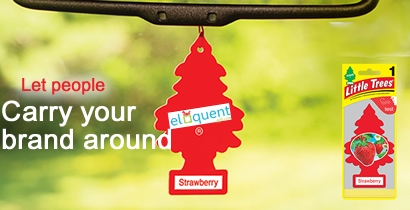 EloquentGift is your number one source for custom promotional car air fresheners in Nigeria.
we offer what we believe to be the best air freshener for cars in Nigeria. We custom design and produce card air fresheners, with company identities and logos, quickly, cheaply, and to a very high standard.
What is special about our car air fresheners?
Lots! We make them just for you, using your logo and company image. We make them quickly. Other companies providing custom-designed air fresheners can take about six weeks to deliver, but we do it in around two weeks. If you have a particularly urgent requirement, we can get them out for you in about a week. Our expert team members will speak to you about your order straight away, and get the ball rolling as quickly as they can.
Best quality is assured by using purpose made, thick, high quality board, and the very best of fragrances. You'll be thinking, "well this must be for huge orders only, and way beyond my budget". Actually, that's not the case! Our minimum order size is 250 (most other suppliers require 500), though, of course, we also welcome large orders. Our pricing is highly competitive. We are trending in Ebonyi News and in other states for wristbands
Why Customized Air Fresheners?
Besides the dozens of exciting fragrances which are available to make the interior of your car a more pleasant place in which to travel promotional car air fresheners take advantage of the highly prominent branding position which air fresheners are designed to inhabit. Hanging from the rear vision mirror of a car or in another prominent location in the cabin of a personal or commercial vehicle the effective freshening of the air which these products provide coupled with the fun and amusement factor they carry combine to produce an effective and budget conscious branded merchandise idea. We also make custom wristbands in Nigeria
CALL OR WHATSAPP US 08181447766
About The Author
Related posts