Rubber Stamp and Company Seal Maker in Lagos, Nigeria
Are you on a search for where to make a professional rubber stamp and seal in Nigeria? Well here are all the information you need to make a good choice. Eloquent Touch Media will help provide you with all types of stamp, seal and ink pad your business needs to stand out. Whether you are looking to buy common stock stamps or you are looking to buy custom made designs, we have what you need! We offer low prices, FREE delivery(for large quantity order) and stellar customer support. We offer the easiest way to order. Just follow the following steps:
STEPS TO ORDER A RUBBER STAMP OR COMPANY SEAL FROM US
• Email Incorporation Certificate of your organization issued by CAC. This is to ensure the stamp is not going to the wrong hand
• Email Company Logo if you wish to include (attracts extra cost). Both emails should be sent to info@eloquent.ng
• Information that should be on the stamp e.g. company name, date, sign etc
• See the types of rubber stamps and prices for rubber stamps and seal
• Make advanced payment to our corporate account: Eloquent Touch Solutions Ltd 0150650868 GTB
• Pick up in 48hrs or less or have us deliver to your destination at a little cost.
TYPES OF STAMPS
Rubber stamps are not all the same in function and make. There is the traditional handle mount rubber stamp where the stamp is mounted to a handle. This type of stamp requires a separate ink pad to ink the stamp. There is also the self-ink type   where an ink pad is built into the stamp mechanism so the stamp is mechanically inked as it is pressed down onto the surface that is to be imprinted with the stamp copy. Then there is this type with adjustable date.
This self-ink date and time stamp is ideal marking tool, for warehouse, stores and shops to stamp date with time when goods sent or received. And it is very useful in front office to mark the status message on all received documents. Date and Time with imprinted "RECEIVED" title message is very useful if you want to mark the time when receiving documents. Even more titles such as SENT, DISPATCHED, POSTED and custom text to suit your needs can be included to mark along with date and time.
You can order for your company stamps or seal today from Eloquent Touch Media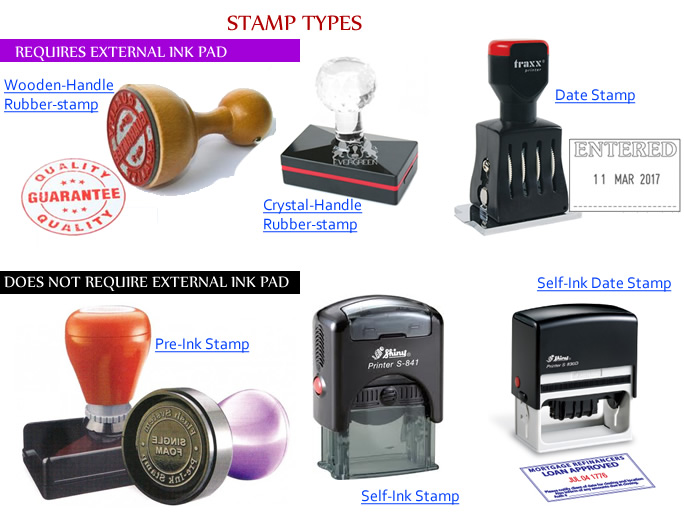 About The Author
Related posts