Ways to Identify Online Scammers Pt 1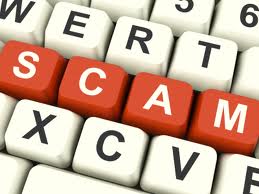 Online scam is on the rise in Nigeria as the internet marketing business is on the increase a typical example of tars (weed) growing amidst the wheat. It's often difficult to tell if an email is legitimate. A friend of mine that travelled to the US recently sent a mail to his wife in Nigeria, in which he requested she pays Five Hundred Thousand Naira into an account he gave him. In less than five minutes, the lady received another mail (from hackers) using the husbands email address asking her to pay 1.5 million Naira into another account.  The only reason she smelt foul play was because that amount of money did not exist in the said account.
 Beware that the internet is not a safe playing ground and that scammers have become increasingly sophisticated in creating fraudulent emails and Web sites that look authentic. These emails and Web sites often appear to be from legitimate companies and include images and logos of these organizations.
Following are some common characteristics of fraudulent emails and Web sites:
 1.     1.  They have an urgent tone.
They often have a sense of urgency telling clients that if they fail to update, verify or confirm their personal or account information, access to their accounts will be suspended. One popular one supposedly from GTB reads
Dear Valued customer,GUARANTY TRUST BANK CUSTOMER DATA UPDATE EXERCISEAs part of our continuous efforts towards providing you with excellent customer service and ensuring efficiency in
transaction processing, we request that you kindly update your records with the Bank by going to
https://ebank.gtbank.com/ibank3/update/login.aspx
This update will help us to prevent any unauthorised or illegal use of our customers identity and to confirm that you are
truely the owner of the account you are operating. Failure to update your account now will lead to termination of your account and internet banking services for security reasons.
click here now for the update.
.GTBank is committed to protect the identity of it's internet banking users.
Help us to serve you better. It's all about your security.
Thank you for choosing Guaranty Trust Bank Plc.
© 2011 Guaranty Trust Bank.
NOTE : THIS UPDATE MUST BE DONE IMMEDIATELY OR YOUR ACCOUNT WILL BE DISABLED
2.       2. They request your information.
This is called phishing. If you click the above website link, it will direct you to a place they steal your personal account details. They typically ask for personal or account information such as:
·         Account numbers
·         Credit Card numbers
·         Online Banking sign on IDs and passwords
·         Mother's maiden name
·         Date of birth
·         Other sensitive information
To be continued………………
Part Two Coming Soon
About The Author
Related posts