10 Ways Corporate Blogging Can Help Grow Your Business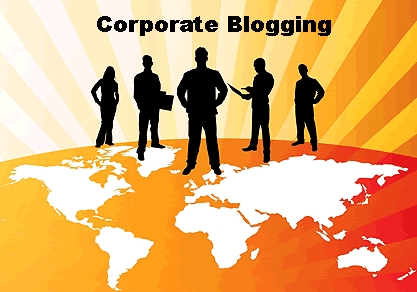 One major tool for business growth every Nigerian should take advantage of in this internet age is blogs. Blogs are no longer just personal diaries as they use to be. The business case for blogging is compelling. Corporate Blogging refers to a company producing or supporting a blog that it uses to accomplish business objectives. Too many marketers focus on gaining initial visibility through advertising or attention-seeking stunts. If that tactic does not convert into instant sales, the budget and effort are wasted. With a blog you can hold prospects' interest for longer, winning customers round over time, and bringing them back to hear from you long after their first contact. No need for spammy, desperate-sounding sales messages.
 What is a blog?
A Blog (short for Weblog) is a web page made up of usually short, frequently updated posts that are arranged chronologically-like a 'what's new' page or a journal. The term was coined by Jorn Barger in 1997.
Ideally, your blog can be on the same domain as your business website and integrated with it – or at least have a prominent link to your business website. There are different platforms where you can create a free blog e.g. wordpress.com, blogger.com (owned by Google), typepad.com etc.
Types of Blogs:
Blogs can be divided into two broad categories namely
Personal Blogs: a mixture of a personal diary, opinion posts and research links. Most Nigerians are already aware of personal blogs, some popular ones include that of Linda Ikeji
Business/Corporate Blogs: a corporate tool for communicating with customers or employees to share knowledge and expertise.Below are what corporate blogging can do for you. It can help you to
 Build trust with your potential customers and clients. Today, trust is in 'people like me' rather than in large organizations. We choose to do business with people we know, like and trust. Your blog is an important way for people to get to know you. Trust is vital in making sales and important for encouraging visitors to opt into your lead-generation process. By starting with compelling information and resources, and by encouraging repeat communication, you build familiarity. Over time, this creates a strong bond of trust, making sales so much easier.
Build stronger better brands: This positive attention and these value-based, long-term experiences don't just create trust. They help to create a stronger, better brand. This leads to word-of-mouth advertising, which is one of the best forms of promotion you can get.
Build an audience. One reason to start a blog – even before your business is properly up and running – is to start building an audience. Once you have niche community following, you will be able to find a way to sale to them later- by selling the products and service that fit with their interests.
Increase search engine visibility. Google and other search engines love blogs. This is because of the way search engine algorithms work. Google believes a site is more valuable if it has regularly updated content – which a well- maintained blog has. It also prefers site that other people link to- and people are more likely to link to specific blog posts than a static, brochure-style website. By writing about topical issues on your blog – such as the latest developments in your field or a conference you recently attended- you will be more findable because you will be writing about things people are likely to be searching for. And finally, the more blog posts you write, the more pages you create for Google to index. These things combine to improve your natural search engine rankings.
Drive traffic to your business. Every business needs traffic, whether this is foot traffic in a high street store or 'eyeballs' to an online store. A good blog not only generates traffic, but also helps retain that traffic, keeping people coming back and growing in loyalty. The search engine friendliness of blogs, combined with other ways you can market your blog, plus regularly updated, quality, topical content, will keep traffic coming to your blog.
Position yourself as an expert in your field. By writing insightful, quality posts, and providing useful information to your community, you can become seen as an expert in your niche – whether that is tax law, flower arranging, coarse fishing.
Reach a wider market. More people can find you in more ways if you have a blog.
Create value for your clients or customers by providing useful content. Talk of customer service that is available 24/7
Learn from your customers by inviting comments and feedback from them. A blog can be useful for doing ad hoc bits of market research, and helps to keep you closer to your market so that you're more aware of what they want.
Create networking opportunities you never knew existed. It's not just clients and customers who will find you via your blog but also potential partners. And if you successfully position yourself as an expert, you may even find that speaking, consulting and writing opportunities come your way.
Jude Oguta
C.E.O
018223333
About The Author
Related posts