7 effective Ways to Market Your Interior Design Business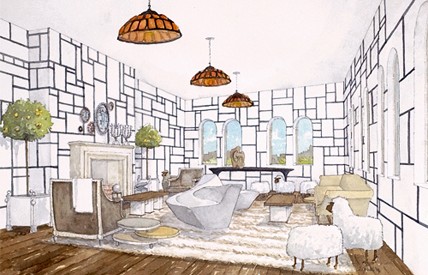 If you have a vision to start an interior design firm in Nigeria, then this article will be of help to you. It will also help those who are already running the business. One of the five things mentioned by Robert Kyosaki in his book Retire Young Retire Rich as an elements of a successful business is marketing(communication). Here we present to you some smart, affordable and effective ways you can employ to market your interior design company in Nigeria.
 Design and Promote your Website: Most people these days visit a company's website before they engage them for any project. Most times your website is the first impression your potential client makes of you. In the privacy of his home, he peruses your works, before making up his/her mind. Use your website to showcase your good works (if you have some) but most especially, make the website look professional, with a creative logo and an easy navigation network. Don't try to build the website yourself, get a professional website designer to do it for you. Don't forget to promote the website through different website promotion strategies.
Word-of-Mouth (Referrals):Â It is always good to satisfy your clients, because when your clients become your brand ambassadors, you already have a cheap and highly effective marketing tool. Some big projects come this way. Remember to treat small projects with the professionalism it deserves because most times, the small projects are a bridge to the big ones.
Social media:Â Facebook, twitter and pinterest is an effective tool for interacting with people not only in the interior design field, but also with potential clients. It is a great way to keep our audience abreast of pictures of our work(pinterest mainly) as well as what is going on within our firm. If the projects you post are exciting, it won't feel like marketing either.
Printed materials: Design and print a world class business card, flyer and brochure. Look for the right places to place your flyers/brochure (example: fast food centre). Attend events and network by sharing your business card. Remember your industry is a creative one so hire a professional graphic design company in Nigeria to handle all your design and print works.
Blogging:Â Blogging is a great way for readers to get to know you and learn more about your taste and style. It is also a great way to document current projects and thoughts for future ones as well. You can start a blog and you can also get featured on other blogs. Many of these top design blogs have several thousand hits a month, so if you can be featured on one of them, it is a great way to introduce yourself to your target audience.
Networking: Build relationships in the business. This includes architects, shop owners, magazine field editors, and third party vendors you rely on such as painters, upholsterers, or even landscapers. Form relationships with people in the design industry as they can be great referrals to those looking for a designer.
Speaking Events:Â Whether speaking to a garden club, antique show or television segment, anytime you can promote your knowledge in the design field, do it. Plus, you never know who may be listening to you speak, and what their needs might be.
Hire a professional marketing Company: If you wish to outsource your marketing, then hire a professional marketing company to do it. Eloquent Touch Media, can design your logo, website, flyer, brochure, business card etc and also print and promote your business using both online and offline strategies. That is why, it is called a one-stop-shop. Contact us
About The Author
Related posts