The Future of Software Development in Nigeria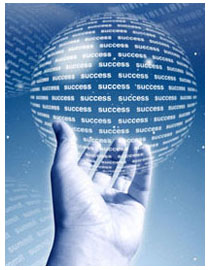 The Cloud has been identified and indeed become the latest strategic roadmap for ICT development at all levels of engagement. As the Internet continues to transform our lives and by extension, the dynamics of national development and the global economy, conventional wisdom dictates that we must ponder and find new medium and model of constructive engagement.
Advances in Information and Communications Technology continue to determine and reshape the way  we live, work and play. In particular, is has greatly influenced and positively disrupted the existing model for distribution of political power and national resources. Also, it has and continues to transform the social media, government, education, culture and the way we work.
Software is at the centre of the current ICT and Knowledge revolution. Convinced that the critical mass of the emerging information society resides in Software know-how, the Institute of Software Practitioners  of Nigeria (ISPON)  organised  the second  International Software  Conference and Competition at the Tinapa Knowledge City, Calabar, Cross River State between 28th and 30th of October,  2012.  About  19  Universities  and  Polytechnics  participated  in  the  National  Software Competition  segment,  out  of  the  30  Registered  and  accredited  Software  Clubs  in  Tertiary Institutions. The mission is to explore the challenges, impact and opportunities of Cloud Computing and  establish a functional roadmap for enhancing its benefits and the survivability and future of Software Nigeria.
The Theme of the Conference is 'ÄúThe Cloud and the future of Software Nigeria'Äú focused primarily to create national awareness on the present and future challenges, opportunities, benefits and risks of cloud computing and help connect government, education and business entities for accelerated action¬† 'Äst aimed at improving global competitiveness. The cloud has indeed become a compelling adventure¬† and¬†¬†¬†¬† good news for start-ups and small business, particularly business in developing countries.
Furthermore, the digital business culture now known as cloud economy is fast becoming a reality and  future  generations  will  experience  its  awesome  power,  when  the  emerging  design  and architecture of our planetary digital spider-web is complete and the interfacing links to universal inter-cloud of planetary information system is complete.
In¬† furtherance¬† of¬† the¬† objectives¬† and¬† mission¬† to¬† enthrone¬† National¬† Software¬† therefore,¬† experts converged to explore and critically examine the structural impact of this digital cultural shift and how to engage its opportunities, benefits and risks to the nation, our industry, professions and collective interests. New ideas, opinions and experiences can now be shared quickly and easily in these new forms of communication, technology, new products and market spring up almost overnight 'Äď spinning the¬† world¬† around¬† us¬† in¬† nanoseconds.¬† The cloud¬† economy¬† is¬† rooted¬† in¬† patterns¬† of¬† interaction borrowed from social networks and cloud computing, where the real and virtual business worlds mix and complement each other.
In pursuance of the above mission the above, the Institute of Software Practitioners of Nigeria (ISPON)¬† and¬† Government¬† of¬† Cross¬† River¬† State¬† of¬† Nigeria¬† –¬† in¬† collaboration¬† with¬† the¬† National Information Technology Development Agency (NITDA) and Nigeria Computer Society (NCS) hosted an¬† International¬† Software¬† Conference¬† and¬† Competition¬† in¬† Tinapa,¬† Calabar,¬† Cross¬† River¬† State, Nigeria.
Some of the distinguished dignitaries present at the conference include, HE. Mrs. Omobola Johnson- Minister for Communication Technology, Senator Liyel Imoke-Governor of Cross River state(the Host), Dr Ernest Ndukwe -the Distinguished Knowledge Ambassador for ISPON National Software Conference 2012 conference and competition, Sir Demola Aladekomo-President Nigeria Computer Society,¬† Chris¬† Uwaje-President¬† ISPON,¬† Prof.Cleopas¬† Angaye-DG¬† NITDA,¬† Prof.Charles¬† Uwadia- Director¬† CITS, UNILAG, Prof.William¬† Megalos¬† (USA),¬† Mrs.¬† Funke¬† Opeke-CEO,¬† Mainone¬† Cable Company, Mr. Ibrahim Tizhe- President CPN, Demola¬†¬†¬† Aladekomo, President Nigeria Computer Society (NCS); Ladi Ogunneye 'Äď Provost, NCS College of Fellows, Engr. Titi Omo Ettu 'Äď Chair Executive¬† CyberSchuul,¬† James¬† Agada¬† –¬† MD¬† ExpertEdge,¬† Prof.Sola¬† Aderounmu¬† (ICT¬† Director, OAU),Odo¬† Effiong-Special¬† Adviser¬† on¬† ICT¬† to¬† Cross¬† River¬† State¬† Government,¬† Chinenye¬† Mba- Uzoukwu 'Äď CEO of Inforgraphics, Bunmi Okunnowo 'Äď Special Adviser on IT to the Minister of Communication Technology, Dr. Chris Nwannenna, Prof Emmanuel Onibere (UNIBEN), Dan Mollina (USA), Matthew Herren (Frankfurt,Germany), Phillip Nwabuokwu (USA), Iso Bassey-Special Adviser to Cross River Government, Pius Okigbo Jr (CEO Infosoft), Prof. Oluwole Charles Akiyonkun Dean ICT FUTA, Dr. Denis Oji 'Äď CMD Horseman Medical Centre Aba, Tomi Davis, Ojinta Oji Alala 'Äď Past- President, CPN, Francis Dogby(Ghana),Lorreta Okani,Tobechukwu Okigbo (Airtel Nigeria), Gbenga Sesan, Kenneth Omeruo, Kenneth Okereafor,Ken Nwogbo,Saheed Adepoju,Zubair Abubakar,Bayo Puddicombe and others too numerous to mention. All the above dignitaries were hosted by members of the National Executive Council of ISPON and the Cabinet of Cross River State.
After numerous expert paper presentations, contributions, delibrations and proof of concept submissions, by International Resource faculties, the following resolutions were agreed as guidelines and strategies for actualizing the next steps:
1.That there is need to proactively launch a national consciousness awareness initiative on cloud computing as a new and revolutionary concept in Information Technology which, if intelligently applied with strategic vision, is   capable of taking Nigeria to its pride of place among the global knowledge giants in the technology ecosystem.
2.  Government is called upon to establish a national Cloud Strategic Framework, ensuring that the pursuit of Cloud Computing initiative is classified as a significant national ICT asset and project  that will guarantee the survivability of the Nigerian nation and make her globally competitive.
3.  Experts identified and emphasized several challenges, opportunities, risks and benefits in cloud computing that will significantly impact on the operations of government, its services to the  citizenry, regulatory bodies, businesses, Software practitioners, Education sector, the young population and generate an overall effect on the Nigerian Economy in the very near future.
4.  Stakeholders identified that Could Computing will grossly impact on education and advised on the strategic importance of reviewing ICT Curriculum at all levels and organizing special certification training for ICT Lectures and Teachers and support services at all level in the Education sector.
5.  Government is advised and severally encouraged to facilitate the building of massive ICT Knowledge capacities and capabilities and explore the windows of opportunities presented by Cloud Computing, ensuring that Nigeria leverages on Cloud Computing Infrastructure as a service(iaas),  Platform  as  a  service(paas)  and  also,  Software  as  a  service(saas). In particular, Software developers should focus on the Mobile-web market.
6.  Experts  particularly  noted  that  Cloud  Computing  offers  great  opportunity  to  Software entrepreneurs  because  it  is  easy  to  scale,  it  does  not  require  investment  in  massive infrastructure, it offers a global market reach great opportunity for the youths and young population of Nigeria to become entrepreneurs and leverage the global opportunity it offers, emulating examples like founders of Facebook, Google, Instagram. There is need therefore to  establish Software Knowledge Parks and Entrepreneur Incubation Centres in strategic locations in the country.
7.¬†¬† The future of and opportunities in the Entertainment Industry 'Äď with particular reference to the Film and New Multimedia sector 'Äď has a very huge potential for Nigeria. In this regard, Stakeholders recognized and unanimously agree that Software and Local Content should constitute a strategic part of the emerging entertainment and Film industry such as Nollywood.
8.  All States of the Federal Republic of Nigeria should be encouraged to establish a State Framework for Cloud computing to ensure the democratisation of tools and knowledge and enable everyone to have easy access and right to knowledge and expertise needed.
9. The conference identified major benefactors in the cloud computing business enterprise as Platform owners, Service Implementers or Sustainers and the Content creators. Experts therefore advice that if Nigeria really wants to benefit from the cloud services they should strategically consider where they want to play either as services providers, Implementers or content creators levels. In this regards, the Nigeria Software industry was encouraged to study carefully the new model that cloud computing offers and leverage the opportunities in the 21st century.
10. Some of the challenges and concerns of Cloud Computing in Nigeria include but not limited to: ownership and security of data and information on the cloud, Policy implications arising from   implementing  cloud  services,  Litigations  on  Data  ownership  in  the  cloud  and infringement rights, Interoperability and International Legislation.
11. The IT Experts, Community and Stakeholders called on government through Technology Implementing  organs  such  as NITDA  and  Communication  Technology  Ministry,  and regulatory bodies (CPN) at the conference agreed that the existing policy regimes may be incapable of resolving the imperatives for cloud computing and should therefore be carefully re-considered, reviewed and adopt the best functional and effecive, practical and sustainable soluions for implementation.
12. Good infrastructure, Access and availability of broadband to all, access to computer, Education of the youths in the area of software development and the reflection of educational and  academic   curriculum  to  reflect  practical  software  development  skills  are  major requirements and critical drivers of cloud computing and its future in Nigeria.
13. The Conference commended the initiatives of the Minister of Communication Technology on the computer-in-school ownership scheme launched by the FG, the proposed connectivity of the Nigerian universities and Research centres to Research Education Network(NREN) and the building of Technology Incubation Hubs in all the geo political zones of the country as some of the ministries initiatives that will drive cloud computing in Nigeria.
14. The hosting and pioneer status for Software Conference and Competition Development in Nigeria¬† by the Government¬† of¬† Cross River¬† State¬† was highly commended. Stakeholders encoured¬† other¬† states¬† to¬† emulate¬† Cross¬† River¬† State¬† on¬† the¬† cloud¬† services¬† as¬† critical imperatives which was show cased at the launch of the Tinapa Knowledge City, a cluster for¬† knowledge¬† based¬† activities¬† 'Äst incorporating¬† E-library,¬† Data¬† Centres,¬† Small¬† business incubation centres, Software incubation and development Centre, as well as Distance and e- learning Centres
15. Finally Experts agreed that the future of Software Nigeria and the implementation of Cloud services  in  Nigeria  lie  in  the  young  Nigerian  population  who  should  be  encouraged  to embrace cloud computing at early stage of their life and become the nation's code warriors.
16. The Natiuonal Software competition 2012 was keenly contested between 19 entries from the nations'ÄėTertiary Institutions. and different prices won by participating schools:
This category of award is for the mobile application that has the capacity to positively impact the¬† Nigerian society. Evaluation was limited to only applications that operate on mobile devices¬†¬† (i.e.¬† iOS,¬† Android,¬† RIM,¬† Palm,¬† and¬† Mobile¬† Windows).¬† Factors¬† considered¬† in determining the winners for competition include but not limited to the following: International Statndards, Concept and Originality, Relevance to Society, Quality of Design, Openness, Accessibility and Simplicity. Winner of the 2012 National Software Competition is Federal University of Technology, Minna with the Project Codenamed: One School 'Äď by Team Members: Olofu Mark, Temitope Oguntade.
They also won the price for the Open Source Software Developer of the Year. According to the donor, Prof. Cleopas Officer Angaye (DG NITDA), 'ÄúSoftware licences have become major challenges to both software industry and the end-users. It is therefore important that conscious efforts are made to develop solutions that are progressively made free to the society irrespective of the users'Äô platform'ÄĚ. This category of award recognises the best solutions developed using non-proprietary platform.
Obafemi Awolowo¬† University,¬† Ile-Ife¬† (Team-I)¬† won¬† the¬† 1st¬†¬†¬†¬† Runner-up¬† with¬† Project¬† Codename: DoTheMaths 'Äď Mobile Game Application Team Members: Akinboyewa Akindolani, Abdul- Rahma Shitu, Nnanna Eze and also won the Best Mobile Software Application Developer of the Year.
Furthermore, OAU Team2 also won the 2nd   Runner-up. NITDA Cup for Best Software Design Architecture &  Documentation  of  the Year was won by Abia State Polytechnic, Aba, while Clement  Ndukwe Cup for the Most Creative Software of the Year, was  won by Federal University of Technology, Akure, with Project Codename: Eye Drive (Security   &  Driving  System)  Team  Members:  Olaoluwa  Aboluwarin,  Mofesola  Banjo, Oluwadara  Oladapo. According to the donor Dr.Ernest Ndukwe."The future of the Nigerian software will thrive on originality that can positively affect the world. This award recognises the most creative and original solution presented by the contestants. The Executive Governor of Cross River State HE Senator Liyel Imoke (MON) rewarded the contestants and winners abundantly.
About The Author
Related posts