Difference Between Trademark Registration and Company Registration.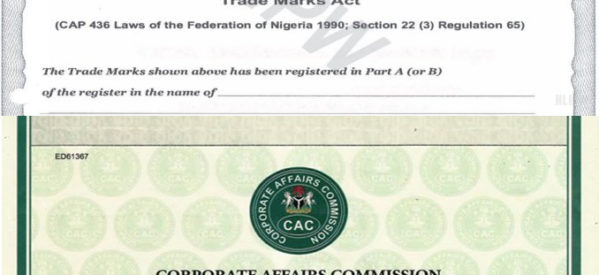 Please, note that registration of Trademarks is quite different from registration of legal entities (business names, companies, partnerships, churches and other organisations) and equally regulated by different government agencies/bodies. The registration/incorporation of legal entities (business names, companies, partnerships and churches etc) is handled by the Corporate Affairs Commission (CAC) with its headquarters at Plot 420 Tigris Crescent off Aguiyi Ironsi Street, Maitama District, Abuja. The Corporate Affairs Commission (CAC) has offices in all most all the 36 states of the federation. Registration of Trademark is handled by the Registry of Trade Marks, Patents and Designs, under the Commercial Law Department of the Federal Ministry of Commerce and Industry. It is presently at the Old Federal Secretariat, Area 1, Abuja. A name can be registered as business name or company or partnership or church in the Corporate Affairs Commission and equally registered in the Registry of Trade Marks, Patents and Designs, Ministry of Commerce and industry as a Trademark too. You can now register your business online or get accredited company registration agents in Nigeria to do it for you faster
Note further, that no registration in any of the two separate government establishments is an automatic registration in the other or a waiver to the other. Registration in either of the government offices does not supersede the other; they are parallel lines. For example, a name "Bezalil HouseSolutions" registered under Corporate Affairs Commission by "Mr. A" as a business name can also be registered as a Trademark under the Ministry of Commerce as a Trademark by "Mr. B". Unfortunately, the both government agencies do not liaise and verify from each other before approving and reserving names for customers; it is a "first come, first have" affair. "Mr. A" can operate his construction industry with such name but may never use such name on his products and services because he is not the owner of the name under trademark law. "Mr. B" can create and produce products, services and brand them with his registered trademark name but can never own a company or business name with such name because he is not the owner of the name under the Company law (Corporate Affairs Commission). Hence it is advisable, to register names under both establishments for an endless business security to avoid passing-off. Business names and Companies should register their names under Corporate Affairs Commission and their several products' and services' names, symbols, logos and companies/business name logos under Registry of Trade Marks. Churches, clubs, associations, schools and societies should equally register their logos, symbols, signs and crest as Trademarks to avoid infringement.
Trademark is an essential tool that depicts the authenticity and source of products and services; fights piracy. An owner of a trademark may institute legal action for trademark infringement to prevent unauthorised use of his marks. An owner of a trademark can lease, permit or even sale his trademark to other legal entities; for example people build hotels and petrol stations then pay established and trusted brand names in business for franchise to use such established names. A trademark may be registered or unregistered; when registered the owner has lots of rights and higher protection of the law (he has an exclusive right to use his trademark and can institute action for an infringement on his trademark but for an unregistered trademark the owner can only institute an action for Passing-off under the Common law of Tort.
About The Author
Related posts